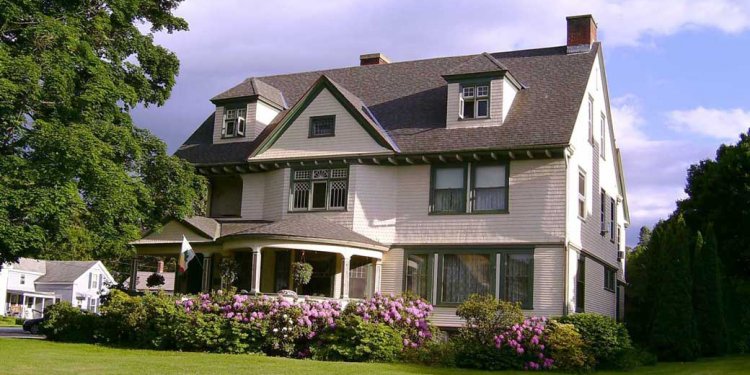 Bennington Vermont Bed and Breakfast
Private Baths & Comfortable Beds
Every room offers private baths, luxurious linens, Vermont Soaps, Vermont made-turn down truffles, electric fireplaces, hairdryers, free Wireless Internet access, air conditioning and most important...
the most comfortable beds anywhere.
Little surprises around every corner. Chocolates, pastries and lavender soap. All the little touches were well appreciated.
C.A. Manhattan.
Suzie's Suite - $139-$159 per night*
Visiting Bennington College? Suzie's Suite provides an opportunity to add the Village Nook, an adjacent room with a twin bed. These two rooms together can accommodate two or three guests for an additional fee of $40 per night.
Suzie's Room
Suzie's Room - Bed
Suzie's Room - Nook
Suzie's Room - Bath
Light and charming, Suzie's room has a comfy queen bed, antique furniture, wide board floors and an electric fireplace. Just across the hall is Suzie's large private bath which features a claw foot tub with mountain views as well as a separate shower. There is an adjacent private sitting room around the corner with a tv and a daybed that can be used for an additional guest at a rate of $40.
The Village Suite - $169-$189 per night*
Village Suite
Village Suite Fireplace
This first floor suite is spacious and elegant with a luxurious queen bed and antique furnishings, sunny sitting room and nicely appointed private bath. You'll enjoy the views of the gardens from the traditional floor to ceiling windows.
The Fair Suite - 9-9 per night*
The Fair Suite
The Fair Suite Sitting Room
The Fair Suite, located on the second floor of the inn, features a luxurious four poster queen bed and antique furniture. Relax in your private sitting room while enjoying views of the Green Mountains and surrounding gardens. The private bath is spacious and well appointed and features a double walk-in shower with dual shower heads and an antique marble sink.
*Please check Rates Page for rate specials!
Privacy & Independence
At the Eddington House Inn, you'll experience the utmost in privacy.
Owner Cathy Jager lives on site in the attached barn but is available at any time to assist you with anything you might require.
"Your colour, décor, and furnishings are so relaxing to the eye and the bed was wonderful. As we have been running a B&B in England for almost 13 years, we can say with some authority on the subject - you are absolutely PERFECT".
John & Margaret - UK Clean, luxurious, quintessentially New England, beautiful Inn. WOW!! What is better than that? Thank you for the lovely stay and memories.
Phil & Debbie - BC Canada
self made training facility price
youngest billionaire self made
youngest self made billionaire ever
richest self made woman in america
self made temecula
anastasia self made palette swatches
self made record
meek mill self made
self made apparel
secrets of self-made millionaires
are most billionaires self made
self made netflix trailer
mmg self made vol 3
self made millionaire woman
secret of self made millionaires
self-made web designer
self made fivio foreign
self made will
neffex self made
self made brand
youngest self made billionaires
self made tattoo on hand
self made video
self-made millionaire book
another word for self made
youngest billionaire self-made
self-made island
self made creative
self-made millionaires under 30
mmg self made 2
lebron james self made netflix
self made millionaire book
self made training facility membership price
self made costumes
self made | instagram
self-made mansions episode 1
self made man apush
self-made meaning
kylie jenner is not self made
self made videos
self made t-shirt design
self-made vs inherited wealth
bobbie carlyle self made man
myth of the self made man
self made books
self made training facility mission bay
law and order criminal intent self made
Share this article
Related Posts