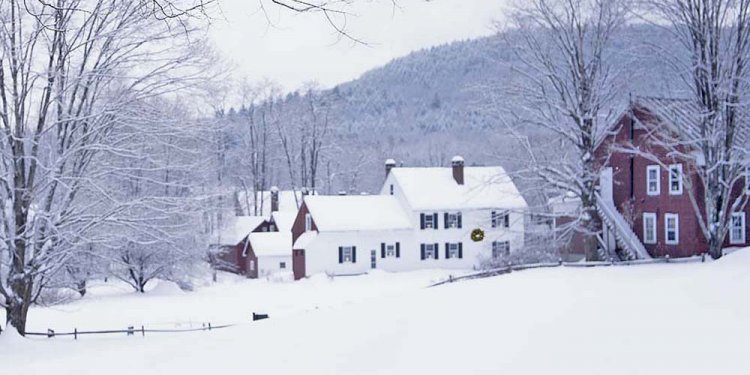 Best Place to stay in Vermont
Best hotels, inns, bed and breakfasts, and restaurants in St. Johnsbury Vermont
Rabbit Hill Inn is the perfect hotel choice when visiting St. Johnsbury, Vermont. This luxurious Vermont hotel is just 15 minutes from the center of St. Johnsbury. When visiting St. Johnsbury and the Northeast Kingdom of Vermont, treat yourself to a relaxing stay at the Rabbit Hill Inn. This 19 room bed and breakfast inn and farm to table restaurant is affordable, romantic, luxurious, & delicious.
This great St. Johnsbury hotel also offers the best dining in the St. Johnsbury area. The Rabbit Hill Inn restaurant offers affordable, creative, highly seasonal, locally sourced cuisine in a comfortable, relaxed atmosphere. Menus change frequently and reservations are required. Enjoy drinks in the cozy pub with full bar, local Vermont craft beers on tap, and a hearty wine list.
Rates always include: Full gourmet breakfast, afternoon pastries, personalized concierge service & day planning, twice daily housekeeping, free internet, & gratuities for staff (no tipping).
Check website for current specials & packages. Rabbit Hill Inn is known for amazing service & hospitality, romantic luxury, and award-winning phenomenal cuisine – all in a relaxed setting. Tons of activities year round.
This Vermont hotel is conveniently located near St. Johnsbury Academy and many other St. Johnsbury businesses and attractions. Fairbanks Museum and Planetarium, St. Johnsbury Atheneaum, Catamount Arts, Maple Grove Farms and Maple Museum, and Stephen Hunek Gallery and Dog Chapel at Dog Mountain.
Our accommodations are near these St. Johnsbury Businesses & Educational Institutions
EHV Weidman – 13 miles
Fairbank Scales – 7 miles
Littleton Industrial Park – 15 miles
Littleton Regional Hospital – 6 miles
Lyndon Institute – 20 miles
Lyndon State College – 20 miles
Northeastern VT Hospital – 11 miles
St. Johnsbury Academy – 10 miles
St. Johnsbury Industrial Park – 20 miles
St. Johnsbury Court House – 10 miles
Maple Grove Farms – 8 miles
Our accommodations are near these St. Johnsbury Attractions
St. Johnsbury Atheneaum – 10 miles
Catamount Arts – 10 miles
Fairbanks Museum and Planetarium – 10 miles
Stephen Hunek Gallery and Dog Chapel, Dog Mountain – 8 miles
St.Johnsbury Vermont is three hours from Montreal Canada and four hours from Quebec City Canada. Rabbit Hill Inn is a perfect place to stay on the way to Quebec City or Montreal. Rabbit Hill Inn is one hour to the Canadian border.
facility management
stress management
sony interactive entertainment account management
management concept
the coi management plan aims to:
maine real estate management
project management resume
alliance property management
alpine property management
property management bend oregon
project management courses
which resource management task deploys or activates personnel and resources?
ubs wealth management
madison property management
absence management
waste management management
total property management
humboldt property management
business administration and management
what is agile project management
case management association of america
project management software monday
project management software monday
hertz farm management
it management
companies management
organizational change management
rising tide management
american community management
apollo management
which resource management task includes activating local resource requirements, if available?
project management institute
office of management and budget
renu property management
waste management customer service
va debt management
north american medical management
stirling property management
change management
change management certification
project management courses
quality management system
liberty healthcare management
pinnacle property management
top management
project management training
project management methodologies
micozzi management
human resource management system
annaly capital management stock
nest property management
behavior management
wildlife management area
care management
harbor group management
waste management colorado springs
project management skills
utilization management
free anger management classes
businesses management degree
azure api management
the coi management plan aims to
management meaning
boulder property management
water utilities management
waste management open 2022
cord management
management accounting
cash management
red light management
product management
best project management software
grs management
monday project management
change management process
lean management
hawthorne management
case management salary
anger management
blue frog property management
management meaning
stirling property management
property management
the management trust
pain management specialist
waste management dumpster rental
anger management near me
st clair county emergency management
private wealth management
organizational change management
visalia property management
stakeholder management
healthcare management
waste management holiday schedule
kass management
project management professional
planned management
tailored management
Share this article
Related Posts