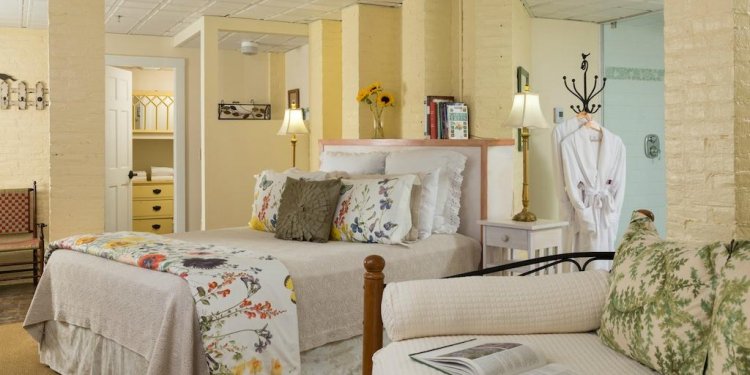 The Willard Street Inn
The building looks grand & old when you pull into the parking lot, but the real surprise is waiting in the backyard! Not only do Katie & Larry maintain an extensive flower & vegetable garden (all on their own – it takes two hours just to cut the grass!), the view of the building from the backyard is beautiful. We enjoyed sitting in one of the many pairs of adirondack chairs scattered around the garden, enjoying the crisp evening air, a chilled bottle of white wine (they have a fridge for guests to store things) & a few homemade cookies (there's a new cookie every day – we loved the ranger cookies, made with Larry's mother's old recipe!).
Breakfast – always the highlight of any B&B stay – is served in the solarium. The black & white checkerboard floor, bistro tables & windows bathed in morning sunlight give the room more of a french cafe feel than a middle-of-Vermont feel (this is a good thing). The menu changes daily, but always includes a sweet dish, a savory dish & their homemade granola.
The first morning, we shared the sweet & savory dishes, chowing down on eggs benedict & apple cinnamon pancakes, along with a giant basket of homemade scones & muffins.
The second morning, we had an early (5:45am!) departure in order to catch our flight to DC. Instead of sending us off hungry, the inn packaged up their homemade granola & some yogurt for us, & off we went, breakfast-in-tow. How nice is that? I don't know ANY hotel chain that sends you on your pre-dawn way with homemade breakfast in hand.
We stayed in two rooms during our stay (I'll explain why in a minute): Room #3, Martha's Memories, & Room #12, the Tower Room. Both rooms have very distinct personalities.
Room #3 has its original coal burning fireplace & is decorated very much in a traditional B&B style (floral wallpaper, canopy bed, etc). However, the bathroom is delightfully modern & it's the only room in the inn with a jacuzzi tub.
Room #12 is located – literally – in the tower of the inn, which is visible from the beautiful backyard gardens. The tower's sitting area has an electric fireplace & it's an absolutely blissful place to sit with a glass of wine & a magazine to watch the sun set over Lake Champlain. The only downside to room #12 is that it doesn't have a bathroom attached to the room – it's right across the hall (& is a private bath just for that room). This seemed like a bummer at first, but then we thought: we walk down the hall to go to the bathroom at home, what is the big deal doing it here?
The rooms have ever modern amenity you need, including bathrobes & complimentary wifi. In addition, a plate of freshly baked chocolate chip cookies are delivered to your room daily.
See also:
Share this article
Related Posts