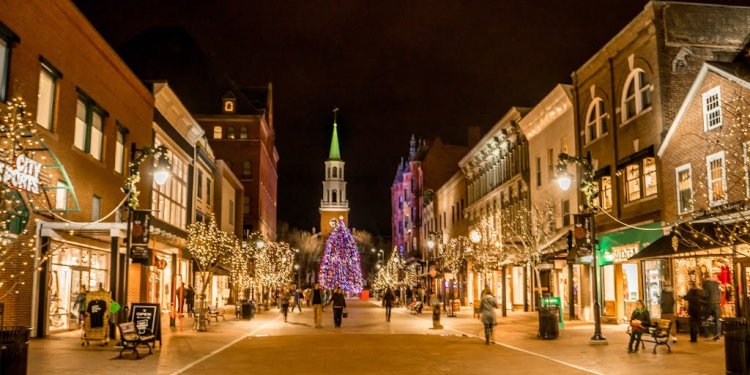 Church Street Burlington Vermont
In Summer 2010, a life-sized statue of popular local jazz artist Big Joe Burrell was unveiled in front of Halvorson's Upstreet Cafe; a number of other smaller-scale efforts are underway.
Included in this is also the Fish Fountain, a public drinking fountain that playfully reminds us of the connection between Burlington and Lake Champlain. Look for the fountain on the Top Block! We are grateful to KeyBank for the sponsorship which brings us the fountain to the Marketplace.
"Everyone Loves a Parade!" mural in the Church Street Marketplace alleyway is custom-designed by renowned Canadian muralist Pierre Hardy, widely-known for his inventive and meticulously-detailed large-scale pieces. Grand Master Samuel de Champlain leads the charge as the scene depicts an evolution in time along Church Street. Notable and everyday Burlingtonians, downtown businesses, and iconic images of the past 400 years are distinguished through overflowing illustrations.
French for "trick the eye, " Trompe-l'oeil is an art technique which involves highly realistic imagery and creates the illusion that the subjects depicted are three dimensional. In addition to its aesthetic value, anyone standing/acting/posing in front of the mural will be in scale with the mural's content and will visually blend into the parade. The mural will be executed using various painting techniques and will be coated with an acrylic polymer barrier coating in order to protect it.
The mural is located in Leahy Way to recognize Vermont Senator Patrick Leahy and the continued support and tremendous contributions he has secured for our downtown. The mural was officially unveiled at the Marketplace's 30th Anniversary Celebration.
Our thanks to the following sponsors who made the mural possible: Judy Shea, Robert Fuller/Leunig's, The Burlington Free Press, The Optical Center, Salaam, Billy Mauer/Grandview Farms, Outdoor Gear Exchange, Garcia's Tobacco Shop, Ken's Pizza and Pub, Three Tomatoes Trattoria, Lyric Theatre, Flynn Theatre, American Flatbread, Farmhouse Tap and Grille, Ben and Jerry's Homemade, Inc., Burlington Town Center, WPTZ - NewsChannel5, Courtyard Harbor Marriott, Sweetwaters and Vermont Paint Company.
Share this article
Related Posts