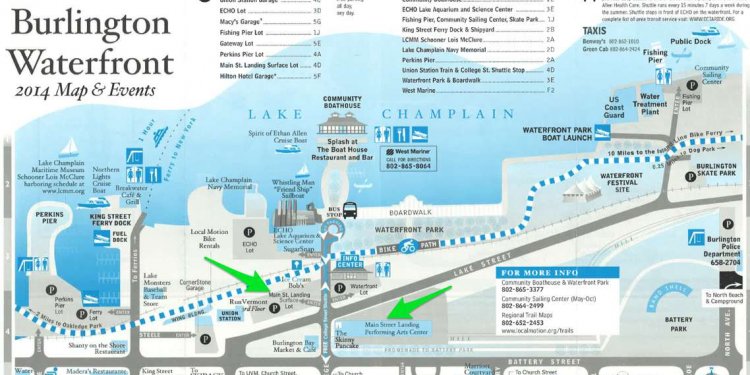 Downtown Burlington, VT
Located at the widest part of Lake Champlain, this crossing is an hour-long boat ride that offers spectacular views of both New York State and Vermont. It serves the popular tourist destination of downtown Burlington, Vermont. The dock is in walking distance to the many shops on Church Street, hotels, restaurants, and the Burlington waterfront.
Our Burlington dock is also the home of our Ferry Dock Marina, which offers seasonal dockage, transient slips, hourly dockage, gas/diesel, pump outs, and ice.
The Ferry Dock Marina is located right in front of Breakwaters Café & Grill, where you can see the best sunsets in town. Here you can enjoy great food, drinks, and live entertainment during the warm months.
The Burlington, VT - Port Kent, NY ferry crossing is our central crossing offering beautiful views of the mountains and lake. Click here to view the current or seasonal schedules.
Visit our Burlington, VT – Port Kent, NY Rates and Restrictions page for detailed information about ferry crossing fees and restrictions for all vehicles including passenger cars, cargo vehicles, bicycles, motorcycles and more.
Visit the Burlington, VT - Port Kent, NY Directions/Parking page for detailed travel information, parking suggestions and an interactive map that will help you plot the fastest route to the ferry dock.
Located on the Burlington waterfront, the Ferry Dock Marina offers seasonal, hourly and transient/overnight dockage. The Marina also offers amenities including gas/diesel fueling, pump facilities, ice in blocks and cubes.
For information regarding ferry security, safety procedures, and general requirements for freight and hazardous cargo, as well as guidelines and precautions for various types of vehicles visit our Ferry Policies page.
Share this article
Related Posts