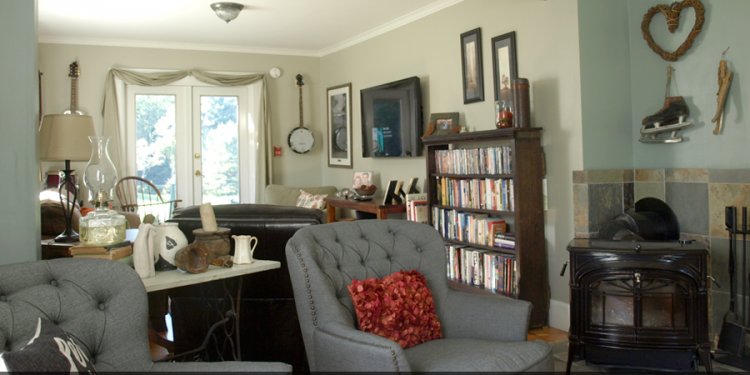 Lodging In Woodstock VT
The guest quarters at the Lincoln Inn are the perfect setting for your relaxing getaway. Our six intimate second-floor rooms combine rustic New England charm with simple elegance. Offering striking views of the Vermont countryside, the quarters feature one room with a king size bed, four rooms with queen size beds, and one room with both a queen size bed and a twin bed. Each room has a private bathroom and shower, and one of the queen-sized rooms includes a bathtub. Cozy and inviting, our guest rooms are the ideal place for you to enjoy the tranquility of a perfect vacation. Come relax, this is your ultimate New England retreat.
Each room is provided with towels, a blow dryer, soaps and conditioning shampoos. Guests have a personal Keurig coffee maker in their room, along with a selection of coffee, gourmet teas, and bottled water.
Free Wi-fi is available throughout the inn, including the guest rooms.
Enjoy a rich and satisfying breakfast. A full, hot breakfast for each guest is included in the price of your accommodation. Each breakfast is homemade and cooked to order to ensure you start your morning with us in the best possible way.
Breakfast is served from 8:30-9:30am. We are happy to serve an earlier breakfast to accommodate your schedule. Please speak to our staff to arrange an early breakfast.
Friends and family of our guests who are not staying at the Inn are welcome to join us for breakfast at an additional charge, with reservation.
Join us for a drink in the Tavern. The Lincoln Inn & Restaurant features a full bar of spirits, as well as an extensive wine list and a selection of local beers. Cozy up with a drink by the Tavern's wood burning fireplace.
For room reservations, please call 802-457-7052.Non-guests are encouraged to make reservations for breakfast. Please call 802-457-7052 to reserve your table.
Reservation Information
Rates: All rates include breakfast, excluding Sunday brunch, which is available with a surcharge.Room rates are subject to Vermont's 10% Room & Meals tax.
Deposits: 50% of your total bill will be required for deposit for a two or more night stay. For a one night stay, 100% of your total bill will be required for deposit. During Dartmouth graduation, a 100% deposit will be required for any length of stay. Two or more night stays are required during peak periods (September 15- October 25) and weekends. We will occasionally make exceptions depending on occupancy and time of year, please call to inquire.
Cancellation Policy: You may receive a refund of your deposit, minus a processing fee, if you cancel within 15 days of your reservation. If at least 15 days notice isn't given, you may receive your deposit refund, minus the $25 fee, only if the room can be re-booked by the date of your intended arrival. Please note: a 30 day notice is required for reservations that fall within peak season (Mid-September through Mid-October). A six month cancellation policy is in effect for Dartmouth graduation.
If you cancel within 48 hours of the reserved dates, you will be responsible for the full payment. We will make every attempt to rebook the room, and if we succeed in doing so you may receive a refund, minus the $25 processing fee. Early departures are responsible for the full reservation. No shows will be charged the full amount.
Check-In/Check-Out: Check-in is anytime after 3:00 p.m.; check-out is at 11:00 a.m. Please call if you will be arriving after 9:00 p.m.
Pets: Unfortunately, we cannot accommodate for any pets.
On-Premise Alcohol Consumption: According to the Vermont state law, you may not bring and consume your own alcohol in the privacy of the guest rooms or on our grounds. Any alcohol consumed must be purchased at the tavern or restaurant. Vermont state law requires all staff to refuse alcohol to guests under the influence. Please be respectful of the Lincoln Inn staff and the Vermont law when purchasing and consuming alcohol.
Smoking: The Lincoln Inn kindly asks that you refrain from smoking in the rooms. A $150 cleaning fee will be charged, per occurrence, for smoking in any of the guest rooms. Please remain respectful of the natural environment and place cigarette butts in the provided receptacles.
Cell Phones: Cell phone noise and usage is not permitted in the dining room. Please remember to silence your phones when arriving in the restaurant.
irish stock exchange
japanese stock exchange
new york stock exchange price
new york stock exchange ticker symbol
tokyo stock exchange index
toronto stock exchange hours
boohoo london stock exchange
ccl london stock exchange
companies listed in stock exchange
cyprus stock exchange
dhaka stock exchange address
dhaka stock exchange index
epa stock exchange
exchange definition stock market
gemini stock exchange
london stock exchange trading hours
los angeles stock exchange
mumbi stock exchange
new york stock exchange hours
new york stock exchange trading hours
new zealand stock exchange
nigerian stock exchange
nikkei stock exchange
ny stock exchange live
s&p toronto stock exchange composite index
stock exchange chart
stock exchange estate sales buffalo ny
stock exchange timings
stock market exchange crossword clue
the american stock exchange
www dhaka stock exchange
australian stock exchange charts
bb toronto stock exchange
bombay stock exchange live share prices
centrica london stock exchange
decentralized stock exchange
diageo london stock exchange
dse dhaka stock exchange
history of stock exchange
hurricane energy london stock exchange
international stock exchange
irish stock exchange
jse stock exchange
kazakhstan stock exchange
kenya stock exchange
london stock exchange logo
long term stock exchange
mexico stock exchange
new york stock exchange app
new york stock exchange closing time
new york stock exchange companies
new york stock exchange company listing
new york stock exchange listings
new zealand stock exchange
new zealnd stock exchange
nokia helsinki stock exchange
philippine stock exchange facebook
roche stock swiss exchange
singapore stock exchange
stock exchange bank woodward ok
stock exchange investment
stock exchange today live
switzerland stock exchange
toronto stock exchange quote
uk stock exchange
vancover stock exchange
what is the largest stock exchange in the world
what time does stock exchange close today
what time london stock exchange open
which stock exchange has the highest volume of shares traded?
www dhaka stock exchange com
1031 exchange stock
Share this article
FAQ
What are the best cities to live in Vermont for young adults? - Quora
Burlington is a wonderful city for a young person to live in. In the main city, nearly all amenities are within walking distance. Those which are not, are usually accessible via bus. Downtown is packed with bars and pubs of all types. Like live music? Try Nectar's. Prefer trivia? Check out RiRa's. Want an unusual cocktail? Go to Daily Planet.
There is a co-op grocery store downtown with fresh and local food. For more affordable options, a bus ride out to South Burlington brings you to Shaw's and Price Chopper. You'll find every type of restaurant—nearly none of the typical chain places.
Y…
Related Posts