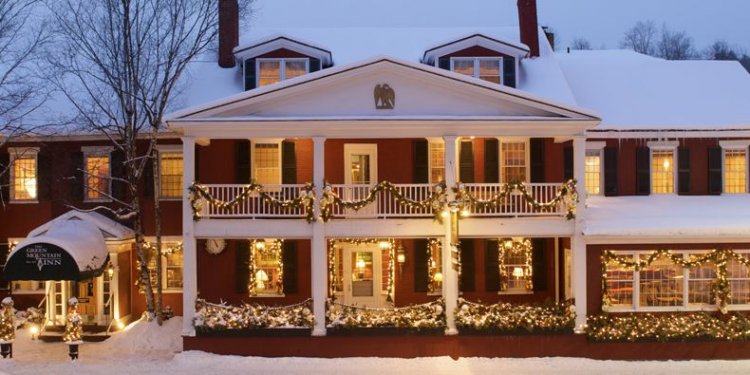 Romantic Places to Stay in Vermont
Escape with your special someone to a romantic rendezvous at one of our TripAdvisor recommended, Vermont four-season resorts. Our getaway & romance vacation packages allow you to savor fabulous meals prepared by our award-winning chefs, rejuvenate in our spas, let your mind relax on a breathtaking hike, marvel at our dazzling Vermont Fall Foliage, discover one another on a romantic bike ride on a backcountry road, but most of all simply reconnect with your loved one on of these delightful romantic getaways in Vermont created by our wonderful lodging folks! Our getaway and romance vacation packages for couples are just the beginning! With delightful accommodations, and tons of fun things to do year round, Vermont offers complete seclusion and the perfect romantic getaway with elegance for every couple, in any relationship. Spend your wedding night, honeymoon or just some quality, pampered, romantic time in our elegant & romantic lodging options. Fall in love all over again over soft music and candlelight in the Moonlight in Vermont!
Romantic Rendezvous Package
For an intimate and relaxing weekend, The Grafton Inn is the place to go, nestled in the quiet and idyllic village of Grafton. Enjoy a candlelight dinner at The Old Tavern Restaurant then retire to your room, where a chilled bottle of champagne, a bouquet of fresh seasonal flowers, a single rose on the pillow, and Grafton Village Cheese await you.
This package includes one night's lodging, three-course dinner at The Old Tavern restaurant, a bottle of chilled Prosecco, a vase of seasonal fresh flowers, a single red rose on your pillow, Grafton Village Cheese, and breakfast.
Book online at graftoninnvermont.com or call 802-234-8407.
Let's Go fly a Kite (Romantic/adventure package for adults)
This package includes 2 nights lodging for two adults, breakfast each morning and a 2 ½ your lesson on how to build, paint & decorate and then fly your own kite at Magic Mountain with locally well-known Vermont Mural Artist Kim Ray. When done, you will bring your creations home to fly on another day. This package includes all materials to construct & decorate 2 kites as well as a picnic basket of goodies to take on your kite flying excursion.
Midweek: Sun.-Thurs, Any 2 nights: 9.32 (incl. VT 9% tax) Sept. 1st – Oct. 31st Weekend: Friday & Saturday nights, 2.92 (incl. VT 9% tax) Sept. 1st – Oct. 31st
Mid-week and Weekend packages: prices starting at 9.32 includes 9% VT tax.
Congratulations on your upcoming wedding!! Whether you and your partner are eloping or having a grand weekend celebration for up to 110 guests, the inn is the perfect private, secluded, location, yet is close to everything. With an acclaimed restaurant known for its farm-fresh cuisine, an amphitheater in the woods and an experienced staff, the inn has been a wedding destination for over 50 years.
Indoors, we can accommodate up +/- 50 guests while outdoors, (spring, summer and fall) up to 110. We offer 12 en-suite guest rooms, most with fireplace & A/C and can sleep 27 guests in beds. We also have a separate cooking classroom in the old barn loft, The Hidden Kitchen, where we can arrange private cooking classes as part of the weekend activities.
Two Night Getaway
Two nights lodging in a queen room and a fabulous dinner (one evening) for two at the Inn's restaurant. A continental "plus"
breakfast is
included each morning. Package prices: $279 plus tax mid-week or $319 plus tax on weekend stays. Please visit or call 866-884-8578 for more details.
Elopement Package
Set on 21 wooded acres with a spring-fed pond, wedding amphitheater in the woods and a grand front porch, this is the perfect location for couples (we welcome same-sex marriages) with up to 12 guests who want a quiet, intimate setting. We're known for our acclaimed restaurant's farm-fresh cuising and can accommodate vegetarians, gluten free and those guests with food allergies.
This package includes a ceremony performed by a local officiant on our grounds or inside the inn, bottle of premium sparkling wine, handmade chocolates from Laughing Moon in Stow, VT, personal flowers, 2 nights in a deluxe room with full hot a la carte breakfast, three course dinner (your choice from our seasonal menu) for 2 on one night, two course dinner for two (from our seasonal menu), and gratuity on all food.
Package price starts at , 100 plus tax during the week, , 200 on weekends (except a few holidays and Fall Foliage). Add dinner in the wine cellar with additional guests (their price starts at per person plus tax and gratuity). Imagine cocktails on the porch, dinner in the dining room, private parlor, the working wine cellar, or the back deck under the heaters & night sky or on the stone terrace. Lodging for additional guests receive 10% discount off regular room rates (except during some holidays & Fall Foliage). We're happy to add a private cooking class in our onsite cooking classroom, The Hidden Kitchen, private hiking guide, canoe trip, hang gliding, winter activities, photographer's package, cake, in-room massages, breakfast-in-bed, and hair & make-up stylist. We can also assist with ordering the marriage license. Please ask for our Resource List.
For more information, visit us at or call 802-263-9217. Check us out on Facebook, Pinterest and Instagram.
Weekend Getaway
Our weekend getaway keeps everything simple allowing you to slow down and relax. The package rate of $175 per night includes lodging, dinner and a breakfast the following morning. Double Occupancy and minimum 2 night stay required. For more information please visit or call (802) 875-2525.
Luxury Spa and Stay Getaway
Spend two nights in a deluxe guest room, receive a bottle of champagne upon arrival, enjoy a three-course dinner for two at the Castle Hill Restaurant, receive a full-service continental breakfast each morning, relax with a 50 minute Elemental Nature Massage for each person at our Aveda Concept Spa, and take advantage of full access to the spa facilities, including heated pool, tennis courts and fitness area. The package rates start at 9 per night midweek. Rates based on double occupancy, midweek and non-holiday periods only. Weekends are available at an additional 50.00 USD per night. Prices do not include tax or service charge. To make reservations for this package, please call 888-764-6836 or book online at www.castlehillresortvt.com.
Anniversary Package
Escape to the Castle Hill Resort & Spa to celebrate your anniversary with your significant other in a luxurious room at the Castle mansion. Each room is individually decorated and retains historical appearance while boasting modern amenities. This anniversary package includes: Accommodations for two in a Castle guest room, Champagne & Fresh Strawberries in your room upon arrival, A three-course gourmet dinner for two one night, and a 50-minute couples massage at our Aveda Concept Spa! Rates starting at just 9 for a two-night stay. Rates based on double occupancy, midweek and non-holiday periods only. Weekends are available at an additional 100.00 USD for the two-night stay. Prices do not include tax or service charge. To make reservations for this package, book online at or please call 888-764-6836.
Create Your Own Romantic Package
Create your own Romantic Package at Inn Victoria, Vermont's Best Romantic B&B as promoted by Yankee Magazine. Make your time together an Exceptional Experience; design it your way by simply telling us what you want in a romantic time together. To make reservations for this package, book online at or call 802-875-4288. Here is what others have requested:
Two nights in a deluxe room
A treasure hunt of clues to find his favorite gift
Champagne in the room
Wine and cheese in the room
Breakfast en suite
Movie night with the worlds best popcorn and 8′ X 12′ screen HD
Flowers and chocolates in your room
Strawberries dipped in chocolate in the room
Special music in the room
Body Massage for two
A private date in Victoria's Secret Garden
Dinner for two en suite
Elegant breakfast each morning
Afternoon tea
Sleigh Ride
Picture tour…Dan takes pictures of you at notable spots in VT
Elopement
You name it…..we'll make your dream weekend come true.
Ultimate Spa Escape
Get away to Southern Vermont and endulge yourself with this fabulous luxury "Spa Escape" package. Packages includes: Two night's lodging in one of our luxury suites with King bed, whirlpool for two, in-room steam sauna, fireplace, TV/VCR/CD. Some offer private decks as well. Scrumptious, multi-course breakfast each morning and afternoon tea or seasonal beverage. In-room theraputic Massage & Bodywork for two by appointment. Special rejuvenating amenity basket $50.00 Dinner Voucher to be used in our romantic, candlelit dining room. Private guided tour of our award-winning orchid greenhouse- a veritible on-premise paradise! Package rate is $859/couple (excluding foliage & holidays). To book this package call 802-824-6789.
Romantic Getaway
This package incleds two nights lodging (luxury or traditional), two 3-course dinners for 2 in our romantic candlelit dining room with live piano music, champagne and chocolate covered strawberries delivered to your room or tableside, magical horse drawn sleigh ride for two (truly over the river and through the woods). All taxes included, gratuity not included. Package Rates:
$649/couple Coleman House
$799/couple Main Inn
$899/couple Carriage House
Share this article
Related Posts