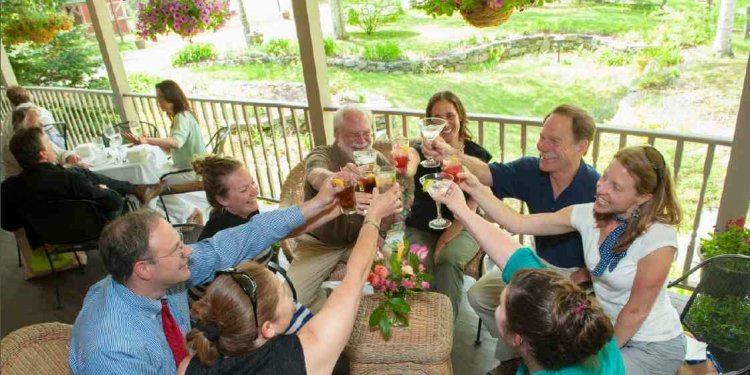 Restaurants in Putney VT
Quick: What do you picture when you hear the word "diner"? For some people, the image of a classic stainless steel diner car on an old byway might come to mind, or perhaps a tiny mom-and-pop greasy spoon joint that expertly slings hash, eggs, and burgers to regular Joes. But not all diners fit into these categories, as the Putney Diner in the center of Putney, VT, proves. Indeed, this wonderful little spot a bit more than two hours west of Boston is more of a comfortable, leisurely family-friendly restaurant than an historic retro joint or a gritty ham-and-egger type place. But the Putney Diner is a diner at heart, with all the traditional comfort foods that you would expect in this type of restaurant.
The homey exterior of the Putney Diner is a welcome sight to travelers along Route 5, especially at night when the storefront is lit up in a warm glow. It looks a bit small from the outside, but there is a fairly good amount of room in the place, with a counter area to the left and a dining room to the right. The counter area does have a bit of a diner feel to it, but the dining room is certainly more comfortable than your typical diner, with a little alcove in the back with a few tables, noise-deadening carpeting on the floor, slowly moving ceiling fans, and attractive tulip lamps on the walls.
Like any good diner, the Putney Diner serves breakfast all day, but unlike some diners, both lunch and dinner are also served here, with the restaurant staying open fairly late into the evening. As mentioned earlier, the food is mostly diner fare, with eggs, waffles, and pancakes for breakfast, and sandwiches and full meals for lunch and dinner. The rather large burgers are very good at the Putney Diner, as are the Thanksgiving day after sandwich (which features turkey, of course), the gooey macaroni and cheese and hot dog dinner that includes a perfectly grilled foot-long dog, and the tender and lean chicken-fried steak with gravy and mashed potatoes. Other meals that are offered include a meat loaf sandwich, a chicken tenders plate with handcut fries, and American chop suey. The Putney Diner also has daily specials (including a delicious red beans and rice soup) and a number of good non-alcoholic beverage choices (no beer or wine, unfortunately), with the spiced cider being an excellent option when it is available. But perhaps the main reason to come to the Putney Diner is for its incredible homemade pies, including a rich-tasting brownie as well as a decadent maple walnut pie that will long be remembered after finishing it.
While the Putney Diner isn't exactly a traditional diner, it is a special place that diner lovers will probably enjoy very much. Its location in a typically charming Vermont village is just one more reason to come to this restaurant, as is the jaw-dropping scenery that exists in the hills just west of town. It may be a bit far from Boston, but the Putney Diner is a great place to hit on a day trip from Beantown, whether it be for breakfast, lunch, or dinner.
Copyright © 2008, 2010, Boston's Hidden Restaurants (www.hiddenboston.com).
Other Pages You Might Like:
Fall Foliage Trip to Stowe, VT (blog entry)
Favorite Farm Stands in Vermont? (questions, answers)
Chelsea Royal Diner, Brattleboro, VT (unreviewed restaurant)
Search by Cuisine | Search by Region | Search by Cost | Special Features | Slideshows | Food Photos
Restaurant Blog | Questions | Readers' Restaurant Posts | About |
Share this article
FAQ
Skiing: Which is better, Stowe or Sugarbush, VT? - Quora
Both are good. Vermont is a great place anyway. Anywhere would be nice.
Related Posts