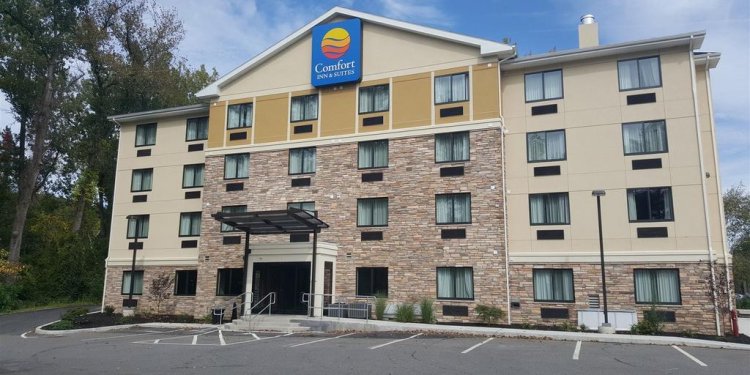 Brattleboro Restaurants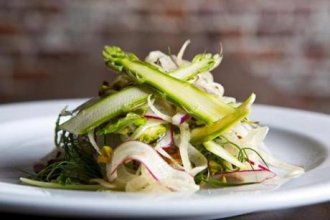 DUO RESTAURANT
BRATTLEBORO
Denver restaurateurs Stephanie Bonin and Keith Arnold did not plan to return to Bonin's southern Vermont hometown and open a restaurant, but while visiting Brattleboro to attend a wedding with their two young daughters, "it just felt right, " Arnold says. The fact that there was space available in the newly renovated, historic Brooks House block downtown where Bonin's parents had owned a beloved bookstore, sealed the deal.
Duo Restaurant, patterned after the couple's 10-year-old Colorado restaurant of the same name, opened last September and has quickly made itself at home. The airy room manages to feel both rustic and elegant with exposed brick walls, rough-sawn, reclaimed wood floors, and snug, stylishly upholstered booths. A curved bar of rusted steel swoops through the restaurant offering a welcome spot to enjoy a glass of wine, microbrew, or carefully crafted cocktail with the seasonal bowl of mussels, simmered with Vermont hard cider, leeks, and heirloom beans in early spring, or saffron, capers, and preserved lemon as the weather warms up.
Guests can see Duo's farm-inspired food being created in the humming open kitchen at the restaurant's heart. "All the energy starts there, " says Bonin. Ingredients and flavors are fresh and lively and presented beautifully on the plate. Late spring and early summer might bring beer-battered pickled radishes served with a chili-spiked aioli or a spring salad of spicy greens, lightly grilled sweet turnips and a shower of ricotta salata. Delicate house-made ricotta gnudi cozy up to spring vegetables accented with lemon and pistachios and cooked-to-order Vermont beef arrives with crusty leek bread pudding and tender asparagus. Fresh housemade sodas like cilantro-lime and strawberry-thyme change with the season. Desserts include sculpted wedges of creamy house-made chocolate semifreddo served over a densely delicious brown butter chocolate cake.
DUO RESTAURANT136 Main St., Brattleboro, 802-254-4141, duorestaurants.com. Dinner daily; weekend brunch; Meatless Monday specials; Community Tuesdays with a fixed price, three-course meal served family-style at a communal table.
THE BENCH STOWE
Named for a Stowe Mountain backcountry ski area favored by those in-the-know, this comfortable, casual new spot requires no insider knowledge to appreciate. Co-owners Chad Fry and Mark Frier met on the mountain and opened The Bench last fall after successfully establishing The Reservoir, a popular craft beer-focused pub in nearby Waterbury. In Stowe, a menu of "wood-fired comfort food" complements a copper draft wall with an ever-changing list of 25 taps (including local root beer and even a couple of wines), plus sought-after cans from The Alchemist, among others. "We like good Vermont-centric food and beer, " Fry says. "This is what we want to eat and drink."
The restaurant is ski lodge-cozy with wood everywhere — walls, tables, and, yes, benches — as well as stacked to fuel the glowing oven. Lights hang artfully over bike tire rims representing another popular seasonal activity. A day of biking, hiking, leaf-peeping or any manner of snow sports earns you a big plate of top-notch poutine, the French-Canadian favorite, featuring fries smothered in an ale-based gravy with local cheese curds. Other notable appetizers include chicken wings and a generous bowl of roasted mussels in a slurpable herbed tomato broth.
The Bench burger is a beauty, loaded with creamy local cheese, pork belly, balsamic onions, and house pickles in a glossy-topped bun. Fire-kissed pizzas include the Rastaman, with local sausage and caramelized onions. For a lighter meal, try the substantial kale Caesar with chunky rye croutons topped with the house-made veggie burger, or salmon tacos with Napa cabbage slaw, roasted corn, and tequila lime vinaigrette. (Both pair very well with the bar's killer Bloody Mary.) Kids will be tickled by the wood-fired, personal cast iron pan s'more, starring a house-made marshmallow, while all will dig happily into a jar of peanut butter and chocolate mousse trifle with fresh-baked brownies and whipped cream.
THE BENCH 492 Mountain Road, Stowe, Vt., 802-253-5100, Open daily from 4 p.m., weekends from 11:30 a.m.
WATERWORKS FOOD & DRINK
WINOOSKI
Just down the hill from Burlington lies the old mill town of Winooski, which has come into its own over the last several years with a buzzing core of restaurants, bars, and cafes. Adding to the momentum is a new incarnation of Waterworks restaurant, a fixture on the dining scene for more than 20 years before it went dark for almost a decade. Located in a historic woolen mill, it reopened late last year thanks to longtime local bar- and restaurant-owner David Abdoo, whose own Lebanese grandparents worked in the mills of Lawrence, Mass.
The new Waterworks takes full advantage of the original soaring ceilings, wooden beams, and riverside setting, but the decor and menu reflect a fresh sophistication. In addition to waterview tables, the beautifully lighted space offers couch seating around the large heart pine bar. Creative cocktails include nods to the building's historical epoch, like a refreshing citrus-spiked Sherry Cobbler, as well as originals such as a house hibiscus margarita. Taps rotate through notable local and global brews with an occasional appearance by Winooski's own Four Quarters Brewing, dubbed "one of the best little breweries you've never heard of" by Food & Wine.
Sharing small plates is a fun way to explore the varied menu: maybe fish sliders with crunchy slaw on mini challah buns, steak tartare with house-made vinegar potato chips, and a wood-fired flatbread topped with the winning salty-sweet trio of duck prosciutto, dates, and goat cheese. Seasonal salads might include a composition of green beans and snap peas with roasted fennel, slivered carrots, and pickled red onion topped with feta and cumin vinaigrette.
Many main dishes also visit the wood-fired oven, from an artfully presented whole fish to classic roasted half-chicken with feather-light herbed popovers. Indulge in lemon-ricotta cake or crunchy churros with a molten pot of chocolate before taking a post-meal walk along the river path.
Share this article
FAQ
What are the best cities to live in Vermont for young adults? - Quora
Burlington is a wonderful city for a young person to live in. In the main city, nearly all amenities are within walking distance. Those which are not, are usually accessible via bus. Downtown is packed with bars and pubs of all types. Like live music? Try Nectar's. Prefer trivia? Check out RiRa's. Want an unusual cocktail? Go to Daily Planet.
There is a co-op grocery store downtown with fresh and local food. For more affordable options, a bus ride out to South Burlington brings you to Shaw's and Price Chopper. You'll find every type of restaurant—nearly none of the typical chain places.
Y…
Related Posts