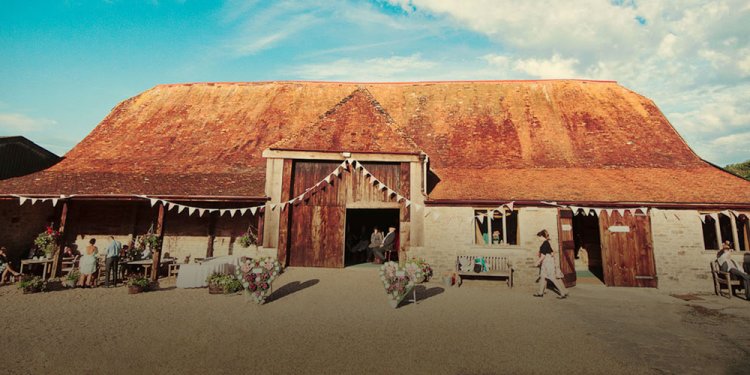 Farm Barn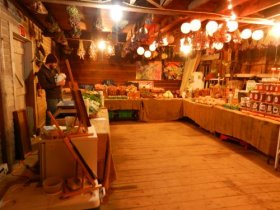 Swing by!
Fall Hours at the Farmstand
beginning Friday, November 4th:
Friday*: 10am to 6pm
Saturday* & Sunday: 10am to 2pm
* Jordan Brothers Seafood on Fridays: 2pm-6pm
AND Saturdays: 10am-2pm
Stay tuned by joining our
LOCATION: in the summer months: under the white tent across from, which is 1A, between Wampum Corner and Wrentham Center. in the winter months: in the White Barn at 458 South St.
PARKING: Park in the gravel parking area. Please observe our enter and exit signs and be careful and courteous pulling on and off busy 1A!
PACKAGING: BYOB - bags, boxes, baskets, etc. We take back perfectly dry and clean pint & quart boxes and egg cartons
PAYMENT:
We can accept Cash, Checks, Credit Cards, & WBF Gift Cards.
You may also pay with your debit card
(get an extra 10% when you pay by May 1st and still an extra 5% when you purchase or reload a card after May 1st)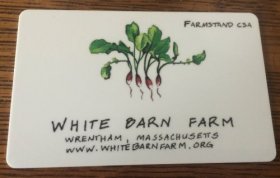 ***********
What's for Sale?
SuperFarm Vegetables
Franklin Honey
Harms Family Farm Maple Syrup
Fat Moon Farm Gourmet Mushrooms
Burnshirt Valley Farm Heritage Breed, Pastured Pork & Grass-fed Beef (all frozen)
Iggy's Bread (Plus Croissants and Sticky Buns on Sat & Sun)
Sheldonville Roasters Coffee Beans

Local Eggs when available
Cookbooks, Gift Cards, White Barn Farm Pint Glasses
SuperFarm Plants and Cut Flowers (in season)
Seafood at the Stand provided by Jordan Brothers Seafood

Share this article
Related Posts