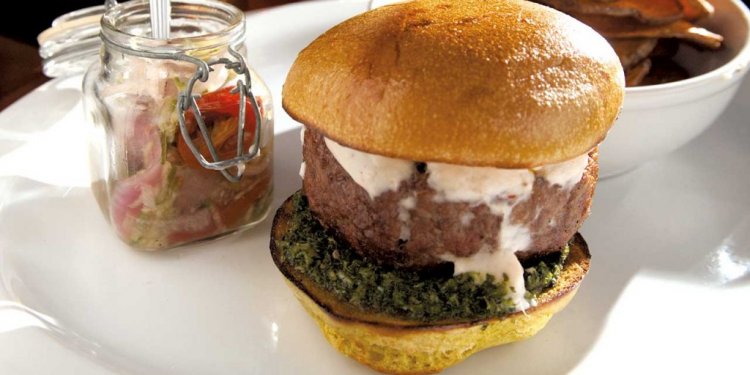 New restaurants in Burlington VT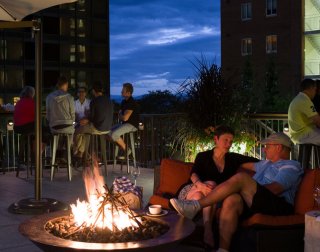 2. A 'Creemee' Sunset | 7 p.m.
Vermont may share a border with Quebec, but resist the urge to Frenchify the name of this local summer staple. It's pronounced "creamy, " and while it's unclear to outsiders what makes a creemee different from regular soft-serve ice cream — the fat content is supposedly higher in some versions — make it a maple for maximum regional flavor. Grab a $3 cone at Burlington Bay Market and Cafe next to Waterfront Park, find a bench and watch the sun go down behind the Adirondacks across Lake Champlain.
3. Gourmandism | 9 p.m.
Photo
The fire pit at Juniper in the Hotel Vermont. Credit Stacey Cramp for The New York Times
Vermont pride meets gastronomic inspiration at Hen of the Wood, arguably the jewel in Burlington's foodie crown. This casually refined restaurant, a two-year-old branch of the original in Waterbury, features local meat (rabbit leg with parsnips, for example) and vegetable (grilled cauliflower) entrees. The menu changes, but one constant is the mushroom toast, with house-cured bacon and a poached farm egg (dinner for two, about $120). Nearby, Bleu, in the Courtyard Burlington Harbor hotel, specializes in New England seafood; the Lake Champlain perch sandwich is the star ($15). Cap off the night with a cocktail by the fire pit at Juniper, in the Hotel Vermont. Try the Juniper Crush, made with Green Mountain gin, juniper berries and mint ($15).
Saturday
4. Milk a Cow | 9 a.m.
Photo Brown Swiss cows at Shelburne Farms. Credit Stacey Cramp for The New York Times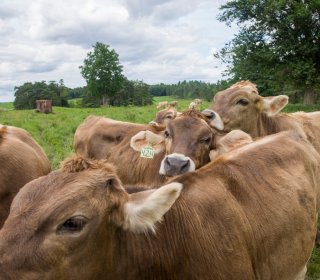 Fuel up with pancakes or a "Vermonter" skillet at Henry's Diner, a local favorite since 1925 (breakfast for two, around ). Then head seven miles south to Shelburne Farms, a National Historic Landmark encompassing 1, 400 verdant, rolling acres along Lake Champlain. The facility began life in the late 1800s as the agrarian estate of William Seward Webb and his wife, Lila Vanderbilt Webb. The estate's design masterminds included Frederick Law Olmsted, of Central and Prospect Park fame, and the architect Robert H. Robertson, whose original house and magnificent gabled barns remain. The complex is still a working farm, but in the 1970s Webb descendants transformed it into a nonprofit educational organization focusing on sustainable agriculture. Visitors can milk cows, chase chickens and watch cheesemakers create award-winning Cheddars from the milk of the farm's Brown Swiss cows. (Admission: for children, for seniors and for adults.) The main house is an inn, for those who want the farm immersion experience.
5. Shop on Church Street | 2 p.m.
Locals can seem ambivalent about the Church Street Marketplace, an open-air mall featuring chain stores like Gap and Patagonia. The historical architecture, central location and town square vibe make the corporate incursion more palatable, and there are plenty of local stores like Lake Champlain Chocolates, the throwback Burlington Records and the Vermont Flannel Company. Grab a bite and a beer at the Farmhouse Tap and Grill, which — you know the drill by now — specializes in Vermont beer and fare. Recharge at Muddy Waters, the platonic ideal of a funky coffeehouse with a pressed-tin ceiling, church pews and Christmas-light chandelier. Wind down with a cocktail at the Daily Planet. (Try the Prime Thyme, made with vodka, thyme lemonade and ginger liqueur, $9.)
6. Root for the Home Team | 6 p.m.
Centennial Field, home of the Vermont Lake Monsters, an affiliate of the Oakland Athletics, is one of the oldest professional baseball parks. It opened on the University of Vermont campus in 1906 and has hosted diamond greats like Tris Speaker and Ken Griffey Jr. The field got some much-needed upgrades recently, but the frills are still few. Even baseball agnostics will be vulnerable to the charms of a summer evening in the old grandstand. (Tickets $5 to $15.)
7. Well Lit Live Acts| 10 p.m.
Lamp shopping and live music might not seem like the most obvious pairing, but it makes for an elegant end to the day. The Light Club Lamp Shop, which opened last year on North Winooski Avenue, glimmers with the soft light of dozens of vintage lamps, most of which are for sale, and provides an inviting ambience for jazz combos and other conversation-volume acts. The vibe is more belle époque salon than music club, but those in search of a more traditional live venue can find one without leaving the building. Light Club is part of a complex that includes the jumped-up street-food cafe Duino Duende — the volcano fries ($12) are your friend — and Radio Bean, a cozy and eclectic music spot. Grab a Heady Topper and wander between them.
Sunday
8. Hit the Water | 9 a.m.
Photo
The Community Sailing Center lets visitors experience Lake Champlain. Credit Stacey Cramp for The New York Times
Share this article
FAQ
Skiing: Which is better, Stowe or Sugarbush, VT? - Quora
Both are good. Vermont is a great place anyway. Anywhere would be nice.
Related Posts