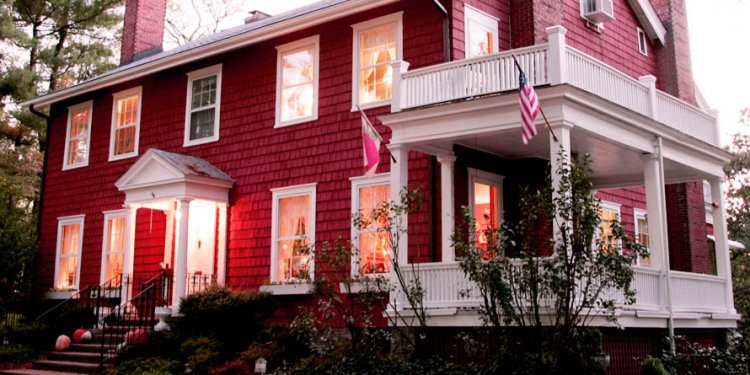 Applewood Manor Inn

In 1908, Army Captain John Adams Perry (a great nephew of brothers Commodore Oliver Hazard Perry, the Naval hero who defeated the British Navy on Lake Erie in the War of 1812 and Commodore Matthew Galbraith Perry who opened free trade with Japan in 1853) purchased the large acreage site on Cumberland Circle. Located on the northern edge of what is now Montford Historic District and adjacent to downtown Asheville, the cleared knoll overlooked the rolling agricultural lands stretching north along the old Buncombe Turnpike and offered a wonderful view and site for Perry's new home. Captain Perry hired the versatile Asheville architect William Henry Lord to design the residence. Those original architectural house plans with changes and notations in pencil are 100 years old and remain with the home and the current owners of AppleWood Manor.
The house was completed in 1912 and served as Captain Perry's home until his death in 1939. In the parlor hang two pictures (circa 1912), one showing the newly completed house and the second is a panoramic picture from the northern second floor balcony looking over the vast farmland and mountains from the north to the east, even displaying a sign advertising Cumberland Circle lots for sale. Captain Perry's deed restriction stated that his new home must cost at least $2, 500 to build, records indicate that he spent $8, 000.
The New England Style Colonial Revival two-story structure is frame construction with a stone masonry foundation, cedar shake siding featuring a pediment entrance supported on Doric columns and flanking porches. The main level of the Manor consists of a large entry hall from front to back, (music) parlor, living room, formal dining room, butler's pantry, half bath, kitchen and main, servant and basement stairs. Large porches are located off of the dining room and living room. There are fireplaces in the parlor, living room and dining room. The second level consists of a large hallway, built-in storage, and stairs to the third level, and four of our 6 guestrooms (Granny Smith, Northern Spy, York Imperial and MacIntosh) each with its private bathroom. There are fireplaces and balconies for all rooms except the Northern Spy on the second level. The third level consists of the large one room Winesap Suite with luxury bath and sitting area. The house is approximately 6, 000 square feet.
Share this article
FAQ
Skiing: Which is better, Stowe or Sugarbush, VT? - Quora
Both are good. Vermont is a great place anyway. Anywhere would be nice.
Related Posts