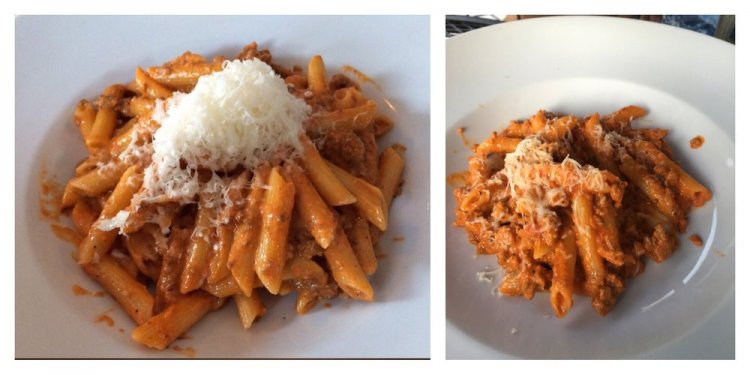 Restaurants Near Montpelier VT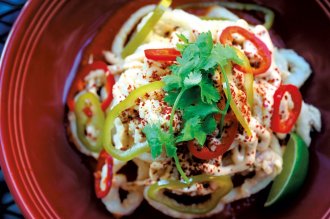 Click to enlarge
jeb wallace-brodeur
Squid Veracruz
Even in broad daylight, the recessed black door on the north side of Montpelier's Main Street opens to darkness. But when you step into the brick stairwell and ascend the narrow staircase toward filigree lanterns, the red lights guide you to the landing, where a host greets you with a smile. Behind her stands a bar, trimmed in stained glass, and behind that, a black-clad barmaid. She furnishes the drinks for La Puerta Negra, the new restaurant and lounge-y nightclub that opened inside the former Black Door Bar & Bistro in early July.
New owner and Positive Pie co-owner Carlo Rovetto kept the old digs mostly intact. He seems to have handed control to general manager Xavier Jimenez — who, along with Knayte Lander, bought Buch Spieler Records last spring — and executive chef Jean-Luc Matecat. The project is separate from Rovetto's several pizza joints, and from the RBI Restaurant Group that manages them.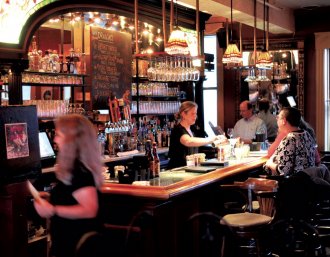 From the bar, the dining room spreads out in nooks and alcoves: a banquette along the wall; clustered tables tucked beneath bricked arches; and 19th-century iron accents that, with salsa and merengue music played at a certain volume, could conjure colonial Mexico.
It's a charming space, and the restaurant's 75 seats have been full nearly every night since it opened. So full, in fact, that management had to remove several tables to lessen the glut.
click to enlarge
That probably explains why the waitstaff — some of whom seem a bit clueless about the basic logistics of eating out — are eager to take drink orders the moment you're seated, but liable to go AWOL for whole half hours. Luckily, there are enough servers that someone is always available should you need another round.
Jimenez stocks his bar with a handful of beers — not Vermont's usual flagships or many big IPAs. These might include sours from Hermit Thrush Brewery, pale ales from Maine's Oxbow brewery or Hill Farmstead Brewery's creamy, sea-black Baltic porter, along with several specialty bottles.
But in keeping with the venue's Prohibition-era vibe, the bar revolves around harder stuff. Its 60-odd bottles of mezcal and tequila represent one of Vermont's finest agave collections, and Jimenez puts tropical New World spirits to work on his cocktail list.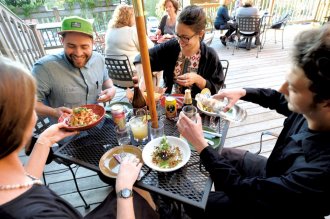 Sipped on the deck in the light of a setting sun, the house margarita was a slow-burning tart of a cocktail, all lime and cactus, sweetened with a touch of raw sugar. But I was more taken with the sweeter Fuego marg's habanero singe.
Pirates may prefer the Puesta del Sol, a rummy take on the tequila sunrise, with pineapple, citrus and a pink splash of pomegranate.
The pisco sour was conspicuously absent from the list (I asked for it, to no avail). But pisco — Peru's tetchy grape distillate — appeared in the juicy, vaguely herbal Pisco Passion, while Brazilian cane-sugar cachaça stiffened a tart, dry Caipirinha.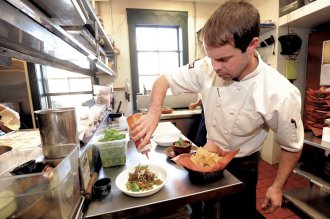 Poured into cups brimming with ice, these drinks go down quickly. But at -12, it seemed worthwhile to drink more than one. You would if you were in Latin America, and comparable craft cocktails often fetch or more elsewhere in Vermont.
click to enlarge
After leaving the Inn at Weathersfield last year, Matecat kind of fell off the map for a while. In Montpelier, he has moved away from the inn's formal, composed cuisine and embraced the free-form Latin American style, in which plates are not so much styled as piled.
That works in the case of chilaquiles, a homespun Mexican dish that soaks yesterday's corn tortillas in mole or chili with cheese and whatever else. Matecat's green version came smothered in a verdant tomatillo salsa with ripe avocado, black beans and a yolky farm egg. The dish was humble and comforting and succeeded precisely because of its lack of fuss.
In fact, many La Puerta Negra standouts are streamlined and simple.
One night, our yucca fries, served with lustrous, chipotle-tinged aioli, were so starched and crisp outside, and so smooth and creamy inside, that it seemed they'd been breaded before frying. Nice touch I thought, somewhat incredulous at the assumed embellishment. But no, the "breading" was all technique. Matecat soft-boiled the roots, then fried them until the wetted starches congealed into a brittle crust, giving uncommon sheen to the common street food.
A tumble of squid Veracruz — served over aioli with pickled chiles and red pepper sofrito — owed its crispiness to a quick crusting of masa harina. Though a tad chewy, the squid's flavor was good.
Other successes emerged in the details: tortilla chips that shattered in clean, crunchy lines; spot-on guacamole mashed moments before it hit the table; smooth, rust-brown mole that filled the room with its peppery, cocoa-rich bouquet.
click to enlarge
Matecat's grilled corn on the cob was an able proxy for the typical ears served in plazas and bus stops throughout Central and South America. Its explosive, sweet kernels were mere punctuation for the slathered sour crema, crumbled queso blanco, and smoky scattering of sumac and Aleppo pepper.
The corn's many accoutrements made for sloppy, finger-licking fun, but elsewhere on the menu, sauces, creams, chiles and herbs overwhelmed the chef's meticulous attention to craft and alchemical flavor assemblages.
Share this article
Related Posts