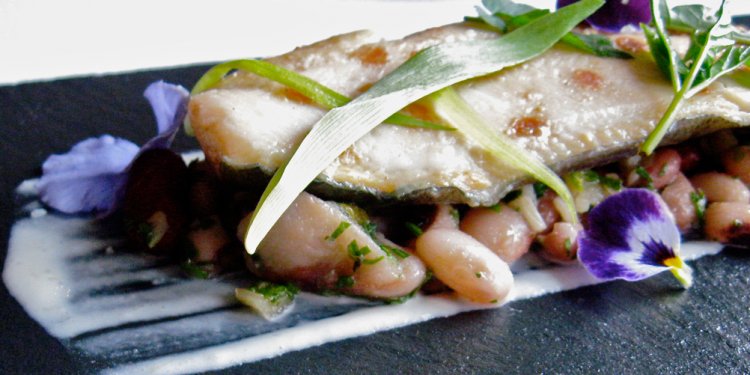 Restaurants Near Barre VT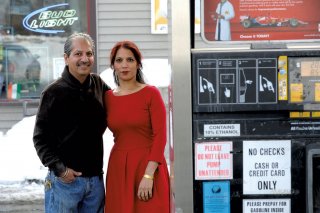 Click to enlarge
jeb wallace-brodeur
Gary and Kelly Singh
After a recent weekend in Boston, Eva Gumprecht decided to return home to Adamant early to avoid an encroaching storm. When she hit the road, though, she found it covered in black ice. "I was utterly exhausted, " she recalls of the drive. "I had a cat that was going insane in the car, and I actually pulled over to call Rickie's. I thought somehow this hell of a day might be reprieved if I could actually get some."
Some Indian food, that is. The "Rickie's" from which Gumprecht sought deliverance is Rickie's Indian Restaurant in South Barre, an establishment hidden inside Rickie's Shell & Deli on Route 14. The only exterior hint of the fragrant fare within is a handwritten sign beneath a neon advertisement for Bud Light. "Serving Indian food everyday!" it announces in pink, orange and green print. "Tandoori fresh naan bread!"
click to enlarge
The first statement isn't quite true. Owners Gary and Kelly Singh actually take Sunday off from preparing their Punjabi menu. But their schedule didn't stop them from fixing something up for Gumprecht on her stressful Sunday — and she's not the only local taking notice of the couple's kindness and their arresting cuisine.
The restaurant owes its very existence to the Singhs' desire to please their new neighbors. The couple moved from Michigan four years ago with their three daughters and one son (Rickie is the youngest daughter) to be closer to Kelly's siblings who live in Winooski. After they bought the gas station, it wasn't long before customers began asking if the couple would consider adding Indian dishes to the Shell's basic deli offerings. "A lot of people were requesting it in the beginning, so we said, 'Let's start with once a week, '" Gary recalls.
The Singhs' new venture prospered, too. What started as a few dishes every Thursday quickly expanded to service on Tuesday and Thursday. And demand kept growing. Gary says he realized that to offer the kind of full-scale Indian menu regulars were hoping for, he'd need a kitchen to match. That meant adding a tandoor, the 900-degree clay oven central to his family's native Punjabi cuisine. In August, the kitchen passed state inspection, and Rickie's began serving from 11 a.m. to 6 p.m., Monday through Saturday.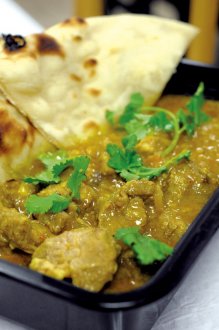 The Singhs have yet to buy a single ad for their tiny restaurant, yet Gary says the Indian food now accounts for about half of his food sales. The rest of that revenue comes from the sandwiches, mozzarella sticks and other American staples left over from the gas station's former life as D&D Smokehouse Deli. Meat products from Vermont Smoke and Cure, which had its headquarters right in back of the Shell station until the company moved to Hinesburg in 2012, also attract those looking for American fare.
click to enlarge
Gary Singh rolls out naan
The Granite City has a long history of welcoming immigrants and embracing their cultures. At Rickie's, one sees that attitude in action. On a recent Wednesday, an older man with a rough, rural look pats Gary on the chest as he waits for his food at one of the long tables facing a TV tuned to CNN. "I'm a good man, but you're the best man I know, " he tells the gas-station owner.
Gumprecht, a former New Yorker and Bostonian, has noted the local support for the Singhs. "I'm sure a lot of people there haven't even had Indian food before, " she says. "The farmers are sitting there eating their 'weird' food. It's definitely not red-flannel hash, thank God."
The couple's personalities may help them win over diners — whether experienced with Indian food or not — but their way with flavors seals the deal. While eldest daughter Shilpa staffs the deli counter, Kelly spends her hours in the back kitchen when she's not running the Shell register.
Back in northern India, Kelly recalls, her mother taught her to make vegetarian dishes. "I learned all the vegetables from her, " she says. "Back then, most women didn't eat meat."
Kelly and Gary grew up Hindu, in a culture where meat was traditionally taboo but rapidly becoming less so. "From my generation, we started eating it, but my grandmother's generation, they were all vegetarians, " explains Gary. Kelly learned to prepare lamb and chicken from her father, who ate flesh freely.
Both parents taught her well. On the vegetarian side, Kelly makes the farmer cheese for her saag paneer from scratch. While many versions of the puréed spinach stew turn gray from overcooking, hers is a deep emerald. By turns soft and chewy, the paneer accounts for as much of the dish, served in a black plastic container, as the spinach. No skimping on protein here. The only thing that breaks up the patchwork of green and white is an occasional red chunk of chile, which generates lip-tingling heat.
On the omnivorous side, Kelly's father would be proud of her lamb curry. Vermonters should take note: This is the real deal. In a thick, brick-red stew, nubs of garlic and green chile bob around chunks of supple lamb. On top, sprigs of cilantro lighten up the rich, spicy concoction.
Spicy, indeed. While the curry may leave only diners with the most sensitive palates gasping for water, even those with a yen for heat won't complain. Gary admits that he keeps the spice level milder than his family would prefer, but he's happy to up the ante for guests who can handle it.
Not surprisingly, the eminently approachable-sounding butter chicken is the top seller among Rickie's customers who are still learning the basics of well-spiced Indian cuisine. "It's not too much spicy, " Gary reasons. "It's sweet with a little kick in there."
For a real slap of spice, the Singhs will cook up a chicken vindaloo. That and several other dishes, including aloo gobi and the mashed-eggplant classic baingan bharta, can be served with an hour's notice. Most of the menu is available ready to go for $8.99 until 2 p.m. After that, entrées such as paneer tikka masala or aloo chole cost $10.99 — and all are accompanied by homemade mint raita and tangy, raisin-flecked tamarind chutney.
A skillful home cook might be able to make an excellent Indian stew with enough practice and the right spices, but most lack the secret ingredient: a tandoor. The Singhs use theirs to their advantage to produce the flakiest, most tender naan this reporter has had in years. The ghee-brushed bread alone is worth the trip, but why not pair it with an order of chicken tikka? The chunks of gingery, yogurt-marinated chicken are edged with char from the tandoor, the taste of fire lending them a hint of danger.
The Singhs admit there's a measure of risk to their business. Besides having made the major investment of the tandoor, they must take frequent trips to New York for hard-to-find spices. For now, Kelly bears the brunt of the cooking because the family hasn't found a worthy cook to share her labors.
Gary has searched in New York for a young Indian immigrant with the requisite talents but has failed to attract one to Vermont, he says. He's loath to teach an American the skills, fearing that he'll have to start from scratch. "When you grow up with the spices, you know what they are. Some things you just can't teach, especially the taste, " he argues.
Share this article
Related Posts