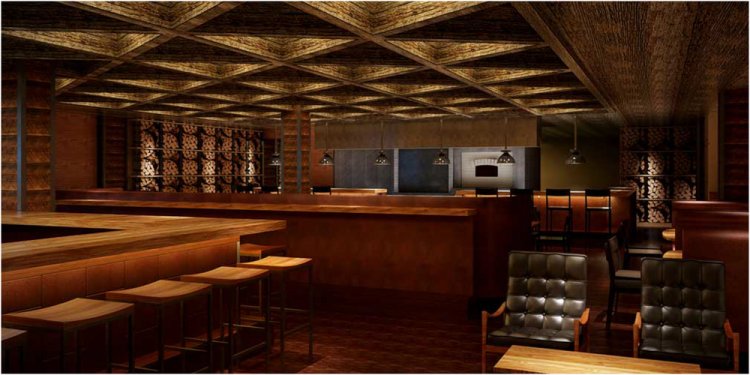 Hen of the Wood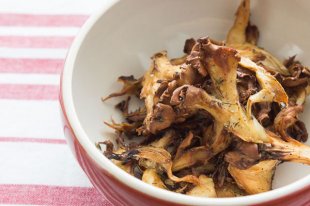 After reading the name of this dish you'd be forgiven if you were expecting a crispy skinned roast bird. Hen of the Woods (a.k.a. Maitake) are a variety of mushroom with a robust earthy aroma and caps that fan out like a feathered plume. These thin caps make them perfect for roasting, which concentrates their bold flavor and renders the tips golden brown and crisp.
Wild looks and delicious taste aside, these mushrooms also contain a relatively rare vitamin that our bodies need to function properly. Aside from a few fatty fish, most foods we eat don't contain much vitamin D. That's why the human body is capable of producing its own vitamin D. But there's a catch… In order for this to happen, our skin needs to be exposed to UV-B radiation (sunlight). This means being outside, in shorts and a tanktop without sunscreen. Not only is this impractical in winter, it's counterintuitive given all the advice we get about protecting ourselves from the the sun.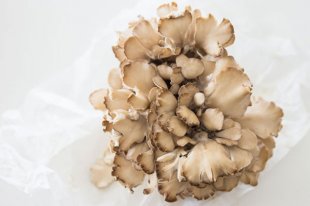 That's probably why over three quarters of Americans are deficient in this essential vitamin. So what does all this have to do with roasted mushrooms? Well, hen of the woods happens to be one of the few foods that contains a significant amount of Vitamin D. 100 grams of these little guys holds about 1, 123 International Units (280% of the daily recommended value) of Vitamin D!
So as we head into fall, keep these tasty mushrooms in mind. While it requires some oven time, this dish comes together in mere seconds, making it a perfect side for dinner parties.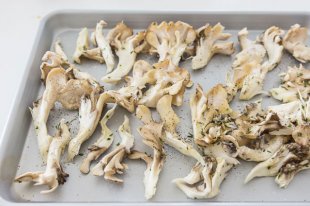 Hen of the Woods is a mushroom variety with a robust earthy aroma. (Recipe Courtesy: Marc Matsumoto of the Fresh Tastes blog)
Ingredients
300 grams maitake mushrooms
5 sprigs thyme, minced
3 tablespoons olive oil
flaked sea salt (such as Maldon)
black pepper
Directions
Put the oven rack in the middle position and preheat the oven to 300 degrees F (150 C). If you have a convection oven, use the convection mode.
Trim any tough bits of stem or growing medium off the bottom and then shred the mushrooms into small clusters. Put them in a bowl and toss with the olive oil and thyme.
Line the clusters up in a single layer on a sheet pan and roast until the mushrooms are golden brown and crisp around the edges (50-60 minutes).
Sprinkle with salt and pepper to taste and serve immediately.
Yield: 2-3 servings
Marc Matsumoto is a culinary consultant and recipe repairman who shares his passion for good food through his website norecipes.com. For Marc, food is a life long journey of exploration, discovery and experimentation and he shares his escapades through his blog in the hopes that he inspires others to find their own culinary adventures. Marc's been featured in the New York Times, Wall Street Journal, and USA Today, and has made multiple appearances on NPR and the Food Network.
cities in alaska state
december vacation
financial entrepreneurs
about the city
new to the city
re motion
entrepreneur ideas for teens
law entrepreneur
work for startup
vacations to go hawaii
entrepreneur meaning in french
data for development
startup club
run startup
developmental pediatrician
vacation school
cities in michigan map
inc 500 article
edit startup programs windows 10
latest fintech
unmotivated at work
no code startup
program development
developmental psychology websites
cloudera
fintech courses
entrepreneur of 2014
women who startup
developmental psychology course outline
politician
train package tours
start up business loan uk
cities and the wealth of nations
healthcare startup jobs san francisco
how to meet pitch
startup files
developmental milestones during infancy
cities in virginia that start with w
fintech leadership
start up nation book download
be best quotes
dog in front of city skyline
where to vacation
entrepreneur characteristics quiz
cities in the world
fintech australia
cities skylines mods
my new city
car entrepreneur
room startup
and city
startup nation
policy entrepreneurs
what does entrepreneurs do
motion for
with a city
developmental psychology journal submission
government development
find an investor for my idea
fintech adoption
people entrepreneur
top motor
entrepreneurship syllabus cape
the other city
we are the city
city in me
motivation music
site vacation
inc startup
finding investors in my area
cities 97 playlist
fintech to work at
city skylines worst song
oil development
city map of va
cities to visit in uk
development team
group motion
developmental milestones for infants and toddlers
city the
mentor graphics
child developmental psychology articles
vacation road
vacation with me
power motion
developmental psychology journals impact factor
fintech ux
i'm on vacation until
now vacation
motion days
startup companies in boston
entrepreneur now
for business development
m and s motor
software company houston
startup account
will startup
what are city
how to load repair mode in windows 7 pro
middle market companies
must have good thoughts
vacation to go tours usa
locate angel investors
motion point
state vacation
inspirational quotes about life changes
this my city
development with
sports entrepreneurs
vacations clothes
motor's
vacation company
startup programs mac
d m development
fintech degrees
25 entrepreneurs
vacation gas
a motion
developmental psychologists example
list of startup
summer vacation
startup nation 2017
tech companies with offices in houston
fintech boston
type of entrepreneurs
types of motivation in psychology pdf
vacations to go careers
delete startup programs windows 10
nyc fintech
city can
all the city
an vacation
pediatric milestones first aid
fintech timeline
entrepreneur video
fintech and beauty
this is my city
startup disk full
in and out motion
vacation and
citrix
towns in the ny that start with k
city now
developmental coordination disorder physical therapy
developmental pediatrician az
city my
fintech global
inspirational dreamers
office startup
fintech products
who are some entrepreneurs
where is the city
list entrepreneurs
will city skylines run on my computer
vacations to go river cruises usa
world entrepreneur
fintech village
it game development
entrepreneur world
vacation men
savings fintech
the city of you
personal time
city of a
self motivation
encourage empowerment quotes
atlas fintech
this city where
development of it
what is developmental and child psychology
startup daily
technology used in finance
places in florida with beaches
project development
quote friendly
successful entrepreneur
entrepreneurs movie
startup food
vacation gay
nothing on start up is starting
family vacation
global expansion
services startup
Share this article
Related Posts